Electric vehicles (EVs) are just like any other car, except they run on electricity instead of petrol or diesel. Unfortunately, there are a lot of myths floating around about EVs as the 2030 ban on the production of new diesel and petrol cars looms.
The team behind the Optimus, Go Zero Charge's smart EV charger, has outlined a handful of the most common and most damaging EV myths and corrected the discourse in a bid to encourage EV adaptation, awareness and education, as well as protecting the environment.
Myth: I won't be able to complete long-distance journeys anymore
Most electric cars can travel over 200 miles in a full charge, and some of the newest models can go over 380 miles. As technology advances, range will only get better – quelling any concerns about range anxiety. When embarking on a particularly long journey, you should plan ahead and identify charging points along your route. This can be easily done by utilising one of the many mobile apps designed for EV drivers, which provide information regarding the locations of public charging points as well as associated costs.
When deciding on the ideal EV to purchase, take a moment to consider the car's battery and range. Of course, motorists buy cars by following their heart and adhering to their budget, but the distance an EV can travel on a single charge plays a role in determining its value – akin to the fuel economy of a petrol or diesel car impacting its price. Making the right decision might also rely on the availability of charging infrastructure in your area. 80% of EV owners opt to install a home EV charger, but the remaining 20% who are unable to, such as apartment tenants, should consider if you have convenient access to an ample number of public charging stations.
Go Zero Charge offers reservable EV charging solutions for apartment blocks, such as South Western House in Southampton, meaning that living in an apartment no longer inhibits prospective EV drivers from making the switch as more and more complexes support the electrification of UK roads.
Myth: EVs take ages to charge
Charging an electric vehicle is a straightforward process that involves a few key steps. First, locate the charging port on your car, typically resembling a fuel cap – you can consult your vehicle manual for the exact location if needed.
It's essential to understand that EVs can be charged at different speeds, with four main categories: slow, fast, rapid, and ultra-rapid. Rapid and ultra-rapid chargers are commonly found along motorways and you can top up your vehicle by 200 miles in just 25 minutes – just enough time for a quick coffee. Conversely, smart fast chargers are typically used for home charging, including overnight.
To ensure you're fully prepared for mid-journey charging, keeping a charging cable in your car is recommended. For public chargers, a payment is required. Various applications are available to assist EV drivers in finding cost-effective charging options and planning journeys based on vehicle range and charging needs.
Myth: It's hard to find EV charging stations
EV chargers can be found in various locations, including supermarkets, service stations, public car parks, restaurants and hotels. With over thirty thousand public chargers in the UK and the Government promising to deliver even more, there's no need to worry. What's more, apps like Zapmap allow EV drivers to easily find charging stations across the UK.
However, it's important to note that charging speeds may vary among different chargers. Therefore, pre-planning your stops can help ensure a faster charging experience. Additionally, you should carry your own charge lead, as certain public charging points may not provide one.
If applicable, you can also ask your employer about any charging provisions provided, as some businesses are supporting their employees' transition to EVs. In cases where access to a charger might be a concern, hybrid models can offer a more suitable alternative.
Myth: Electric recharging is more expensive than petrol and diesel
Owning an EV can lead to significant cost savings. Topping up your EV with a home charger like Go Zero Charge's Optimus costs two thirds less. Plus, overnight charging could cost less than £5 for 100 miles.
In addition to the vehicle tax exemption, some energy suppliers offer cheaper tariffs specifically for EV charging and certain car parks provide free parking spaces for electric vehicles. Furthermore, some councils offer reduced or free permits for on-street parking overnight, benefiting those who must rely on this type of parking arrangement. Overall, EV ownership can provide various long-term cost-saving benefits for motorists.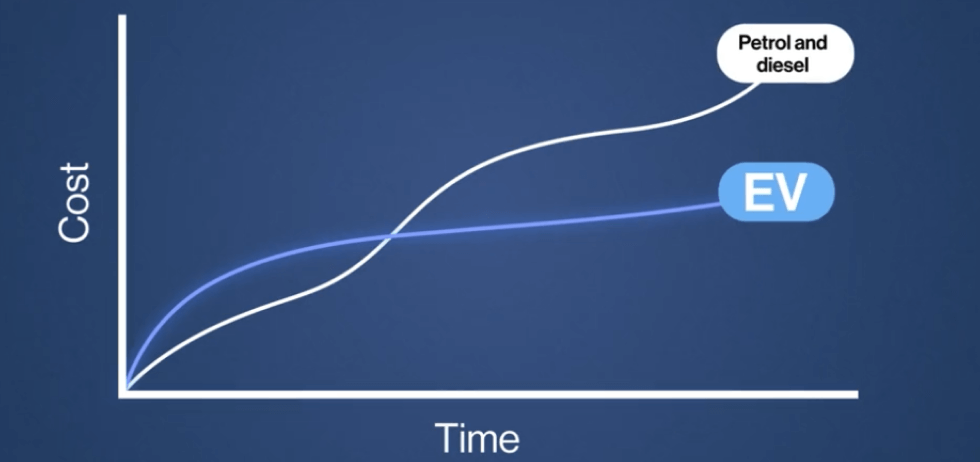 Myth: EVs are more expensive
While an EV used to be more expensive than petrol or diesel vehicles, more affordable models are now available. Plus, they're cheaper to maintain, break down less often and are cheaper to run, particularly with a home EV charger like the Optimus.

If you're not in a financial position to purchase a new EV right now, leasing has emerged as an increasingly popular option among motorists. By paying a monthly rental cost, individuals with lower incomes can afford the transition to electric vehicles. In many cases, maintenance packages are available to provide assistance with repairs, plus an exemption from MOT requirements is applicable to lease vehicles that are less than three years old. When the time comes to upgrade to a more modern model, one can simply return the current car and select a new vehicle.

What's more, the used EV car market offers plenty of cheaper choices without sacrificing quality. Used battery electric vehicle sales soared from 56% in the first quarter of 2023 to an astonishing 81% in the second quarter*, serving as proof of the increasingly popular and financially flexible alternative.
Myth: I can just use a three-pin plug to charge my EV
This is technically true but not recommended. It cannot be emphasised enough that opting for a smart EV charger is a hugely more attractive solution than relying on a standard three-pin plug, which could take well over 24 hours to charge your vehicle. With enhanced safety features, smarter charging capabilities and faster charging speeds, the installation of a smart EV charger represents a significant step towards cost-effective, secure and reliable charging. Additionally, running an extension cord out of a window creates serious insurance and security risks.
Three-pin charging can present a significant fire hazard and also risks invalidating your home insurance, meaning it should only be used in absolute emergencies. Almost everyone who can get a home EV charger does so because it's faster, easier and safer.
Myth: Home charging isn't worth it
Charging an EV at home is not only more economical but also more convenient compared to relying solely on public charging points. You only need a private parking space associated with the property, such as a driveway, along with the installation of an external box charging point. If you currently rent your property, obtaining permission for installing a charging point is necessary.
Myth: The risk of replacing the battery is too expensive
EV battery replacements were much more common with the first generation of EVs, whereas newer cars boast much better and more reliable battery technology and long warranties, approximately eight years or 100,000 miles. With dramatically fewer moving parts than a petrol or diesel engine, the chances of replacing your battery is greatly reduced. In the incredibly unlikely event, there is limited room to reduce the cost – however, it may be possible to split the bill into monthly instalments without any interest.
Myth: I'll be hamstrung shopping for properties with EV chargers already installed
Moving to a new house without a charging point does not pose a significant issue as a charger can be uninstalled and relocated to your new property by a qualified EV installer. On the other hand, leaving your old home with a charging point can increase its value and attract potential buyers who also own EVs.
Myth: I can't get an EV charger at home as I rent a property
People living in rented properties are supported by the EV chargepoint grant, which provides the lower of £350 or 75% off the cost to buy and install an EV charger at a property which is rented. To apply, the owner or tenant must live in the flat, have access to a parking space that is accessible, clearly defined, off-street and private and either be the registered owner of an OZEV-approved EV, have leased one for at least six months, be using one as a work vehicle (for at least six months) or currently have one on order.
Myth: Mechanics aren't equipped to repair EVs
As the popularity of EVs continues to grow, the number of garages equipped to repair them is also increasing, making it easier than ever to find affordable maintenance solutions for electric vehicles. It's likely that your usual mechanic will be capable of repairing your EV but to be safe, you ought to check with them in advance to confirm their expertise in this area. If your regular mechanic cannot provide the necessary assistance, booking an appointment with a specialist garage is a viable alternative, as they will possess the requisite knowledge and have access to replacement parts – thus enabling efficient and cost-effective repairs or servicing.